Listening, I Push Off the Branch and FLY: Courage to Fly Blog Hop II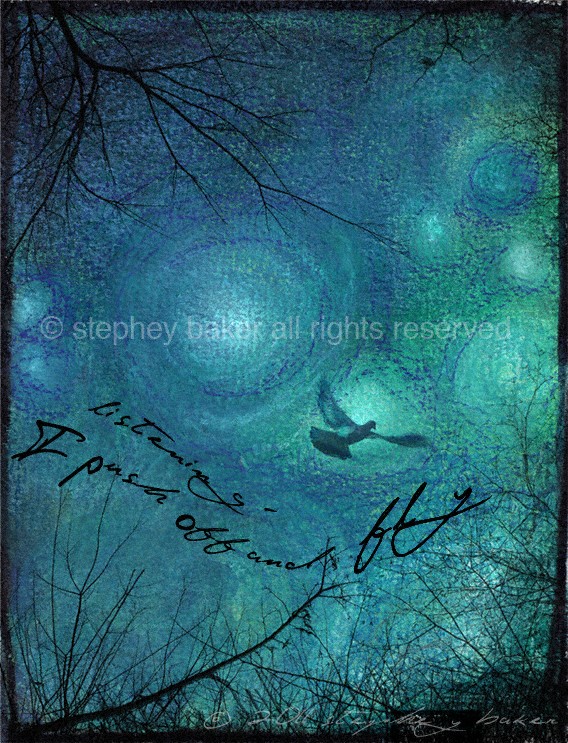 "Hold fast to your dreams, for without them life is a broken winged bird that cannot fly." ~ Langston Hughes
The Courage to Fly Blog Hop offers creative insight and encouragement from over thirty innovated, intuitive, and inspiring women sharing their heart felt stories of how they live their best life, while navigating the highs and lows of living a creative life, living in such a way, that keeps their hearts light and open. You can read the inspiration behind the hop here.
I invite you to fly with us by participating in the Courage to Fly Blog Hop. Follow us from blog to blog, and leave your heart felt insight in the comment section of where you've landed (to gather inspiration + rest).
It is my hope that this blog hop inspires you to shake off any dreariness of duty and sacrifice, you may feel, and do what you love.
When you do what you love, you are free to be who you are and live the life of your dreams come true.
You have the courage to fly.
I'd like to introduce you to the first six inspiring women from our courageous flock. They are soaring by living their courageous life and supporting others along the way. Clicking on their question takes you to their post where you read their full response. I've included a short recap of my favorite passages in their posts to share with you here today. I hope you enjoy it as much as I have!
Here's to cultivating The Courage to FLY!
Wednesday, March 23, 2011
Amanda Davis writes to share…
Have you ever had anyone push you "out of your comfort zone" and in so doing freaked you out or made you resist in anyway? BUT! After that push, once the fear was breached, were grateful towards?
This is a must read. No other way to express it. It must be experienced first hand. Here is a passage Amanda wrote that inspired flight:
"The possibilities are endless when you actually have someone who believes in you and makes you believe in yourself."
………….
I'm Amanda Davis. I am a twenty-something who is exploring every creative avenue that shows itself to me. I love to finagle things with my hands, share funny stories, words of wisdom and oddball thoughts. I am also mildly obsessed with Celine Dion. She is an angel.
Brandi Hussey writes an inspiring post in response to…
Have you ever taken a risk on yourself? Pushed off the branch and flew into uncharted territory w/nothing but inspiration fueling you?
Brandi eloquently shares her artistic journey with us and how she received the inspiration need to SOAR! I believe she offers a priceless message to all artists when writing the following:
"My entire artistic journey has been a lesson in learning to trust myself in order to fly."
Visit Brandi to learn more of how she integrated this lesson within her life.
………….
My name is Brandi Hussey. I'm an Artist, jewelry designer, blogger, color addict. Driven by insane amounts of caffeine and crazy ideas.
The two creative insights provided by Amanda and Brandi are invaluable to us artists, for the road leads us home, to ourselves. It's not an easy road to travel but, worth everything, for it yields the freedom needed to be YOU, and no one else can do that or be that, better than YOU.
The journey being showcased through the Courage to Fly blog hop is one all artists travel. It does require courage and perseverance. If traveled long enough, it promises the victory of self-discovery, of artistic recovery – from moving through the shadow side of the starving artist, into the illuminated light of the THRIVING artist. This victory bears the empowerment to live life infused with the wisdom and know how to create your hArts dream into reality. You are no longer stymied by fear, pain, or confusion.
You freely live life despite what fears may arise.
You no longer question if your dream is a possibility. You seek how to make it true. You Live it as your everyday life.
There comes a time in each artist's life where we must choose light or dark, yes or no. It is a life or death question. Do we create art so we can live? OR Do we live to create art? Which have you chosen?
Could these insights be the little gems you need to mine within you? Would learning + living this lesson support your flight? Could you use the support of our courageous flock to help you fly?
~Stephey
Stephey is one of the talented writers for Handmade Spark. She is a creative mentor, witty transcendentalist artist, writer, Master-Instructor of Integrated Energy Therapy™, photographer, graphic designer, website designer, optimist and lover of bubbles.
blog comments powered by

Disqus