Red in Fred: Brick and Mortar Discovery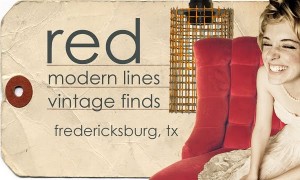 On a recent hill country road trip my husband and I decided to swing through a little town called Fredricksburg, Tx. While my husband has never set foot in the town I have memories of visiting almost every winter to check out all the "antique" shops and year-round Christmas stores with my family.  I spent most of the car ride warning him that the shops are a little dusty and smell of moth balls, but I would reward his bravery with some peach cobbler from one of the local bakeries.
Imagine my surprise to see a transformation of this sleepy little tourist trap. Lucky for me, that bakery was still there as promised; however, instead of antique knooks and crannies a street full of high end design shops and fashion couture greeted us. My husband put on his "brave" face as he realized that not only would I have to check out all the new shops but I would be investigating every light fixture and design display. I can't help it..my design roots jump out when I see creativity in brick form.
A stand-out shop for me was a shop simply called Red. Their tagline states modern lines, vintage finds. Ok, I'm good..just leave me here. Lucky for my husband they were the last stop and they were very gracious as we waited until closing time to make our exit.
Image of Plover Organics Bedding Display in Red.
I rarely walk into a store and sigh *this is me.* This store is an incredible mix of fresh modern lines, truly unique vintage items and the perfect finishing touch with organic and handmade accessories.
It's a good thing Fredricksburg is hundreds of miles away, I would be the crazy lady sitting on their porch every morning with my latte' in hand. I can't help it, stores that ooze creativity suck me in. This hill country trip truly jump-started my love affair with design again. Custom fabric? Made to Order? One of a Kind? Handmade? Organic? Finally..someone that speaks my language.
If you are looking for a new addiction err, place to shop..be sure to check out Red's website and blog:
http://redinfred.blogspot.com/
On a side note, Red is also a member of the 3/50 Project an incredible little movement to "Save The Brick and Mortars our Nation is Built On." No surprise, I am a supporter of this project. You can learn more here: http://www.the350project.net/home.html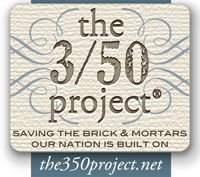 blog comments powered by

Disqus